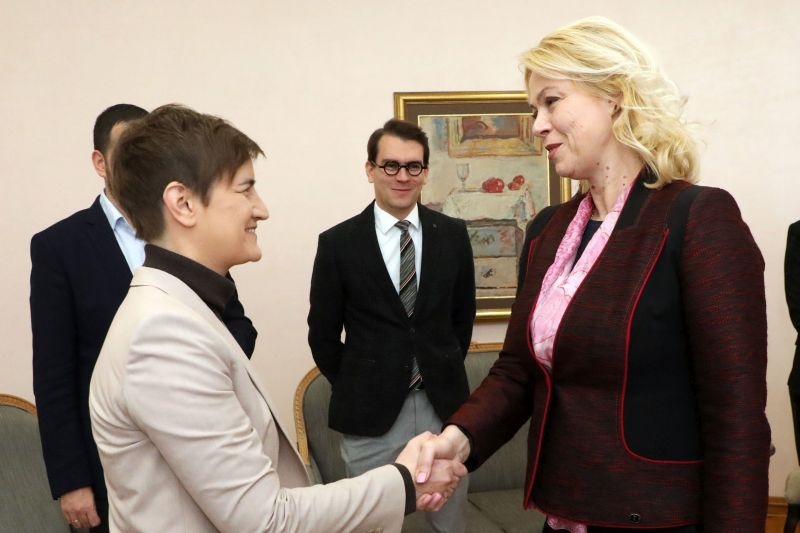 Prime Minister Ana Brnabic spoke today with Chairwoman of the Parliament of Montenegro Danijela Djurovic about bilateral relations between the two countries, European integration and cooperation in the region.
Brnabic assessed that Serbia is committed to the further development of bilateral relations with Montenegro, based, above all, on traditional friendship and close relations, which is essential for further progress and economic development of the region.
The Prime Minister pointed out that she is extremely satisfied with the intensification of the political dialogue between the two countries, recalling the recent visit of Prime Minister Dritan Abazovic to Serbia.
She expressed her belief that Montenegro will join the regional initiative "Open Balkans", which aims, above all, to improve the lives of the citizens of the region.
The Prime Minister also stated that the focus of the future government will be on infrastructure, especially rail connections in the region.
Djurovic assessed that the intensification of cooperation and support within the region are particularly important at the present moment, when we are facing major global challenges.
She pointed out that Serbia showed exceptional commitment to good neighbourly relations and that it provided support during the crisis caused by the coronavirus pandemic, donating vaccines to the citizens of Montenegro, when it was most needed.
The Montenegrin Parliament Chairwoman expressed her willingness to improve cooperation in the field of finance, payment transactions, but also in other important areas.
The officials expressed their belief that the officials of our countries will work dedicatedly to improve the political dialogue, parliamentary and bilateral cooperation.